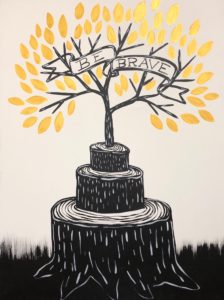 Be Brave

Scott Erickson is known throughout the United States as the premiere liturgical painting artist in the country. He has joined us at Warmth In Winter the last 2 years.
Going for $126.00
Ending Date - 30th Apr 2018 17:59:00
Ships to - Must Pick up.

Location

- Must Pick up.
Current bids
Jay bid $126.00 on 2018-04-30 12:51:53
Kylan Hadley bid $124.00 on 2018-04-30 12:51:23 [auto]
Jay bid $122.00 on 2018-04-30 12:51:23
Kylan Hadley bid $120.00 on 2018-04-27 09:16:15 [auto]
Jay bid $118.00 on 2018-04-27 09:16:15
Kylan Hadley bid $116.00 on 2018-04-27 08:37:28 [auto]
Jay Peele bid $114.00 on 2018-04-27 08:37:28
Kylan Hadley bid $112.00 on 2018-04-27 08:36:29 [auto]
Jay bid $110.00 on 2018-04-27 08:36:29
Kylan Hadley bid $107.00 on 2018-04-27 08:35:58 [auto]
Jay bid $105.00 on 2018-04-27 08:35:58
Kylan Hadley bid $103.00 on 2018-04-18 09:11:10
Nicole bid $101.00 on 2018-04-18 09:10:44 [auto]
Kylan Hadley bid $100.00 on 2018-04-18 09:10:44
Nicole bid $77.00 on 2018-04-16 05:41:51
Jesse bid $75.00 on 2018-04-16 05:41:14 [auto]
Nicole bid $75.00 on 2018-04-16 05:41:14
Jesse bid $62.00 on 2018-04-14 07:03:02 [auto]
Nicole bid $60.00 on 2018-04-14 07:03:02
Jesse bid $56.00 on 2018-04-14 07:02:17 [auto]
Nicole bid $54.00 on 2018-04-14 07:02:17
Jesse bid $52.00 on 2018-04-13 23:41:05
Nicole bid $50.00 on 2018-04-13 12:46:14
Payment Details
Payment must be made using the following method
| | |
| --- | --- |
| PayPal | Auction winner will get a PayPal payment link via email. |