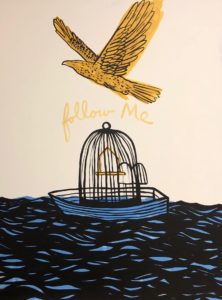 Follow Me Painting

Scott Erickson is known throughout the United States as the premier liturgical painting artist in the country. He has joined us at Warmth In Winter the past 2 years.
Going for $94.00
Ending Date - 30th Apr 2018 17:59:00
Ships to - Must Pick up.

Location

- Must Pick up.
Current bids
Kelli bid $94.00 on 2018-04-30 11:30:36
Jay bid $92.00 on 2018-04-27 09:20:35
Kelli Hamilton bid $90.00 on 2018-04-27 09:20:20 [auto]
Jay bid $88.00 on 2018-04-27 09:20:20
Kelli Hamilton bid $86.00 on 2018-04-27 09:17:13 [auto]
Jay bid $84.00 on 2018-04-27 09:17:13
Kelli Hamilton bid $82.00 on 2018-04-26 11:43:10
Nicole bid $80.00 on 2018-04-26 11:42:44 [auto]
Kelli Hamilton bid $80.00 on 2018-04-26 11:42:44
Nicole bid $77.00 on 2018-04-23 14:32:28
Kelli Hamilton bid $75.00 on 2018-04-15 09:27:58 [auto]
Nicole bid $75.00 on 2018-04-15 09:27:58
Kelli Hamilton bid $67.00 on 2018-04-15 09:26:57 [auto]
Nicole bid $65.00 on 2018-04-15 09:26:57
Kelli Hamilton bid $62.00 on 2018-04-15 09:26:29 [auto]
Nicole bid $60.00 on 2018-04-15 09:26:29
Kelli Hamilton bid $54.00 on 2018-04-14 20:42:17
Nicole bid $50.00 on 2018-04-14 07:04:12
Payment Details
Payment must be made using the following method
| | |
| --- | --- |
| PayPal | Auction winner will get a PayPal payment link via email. |